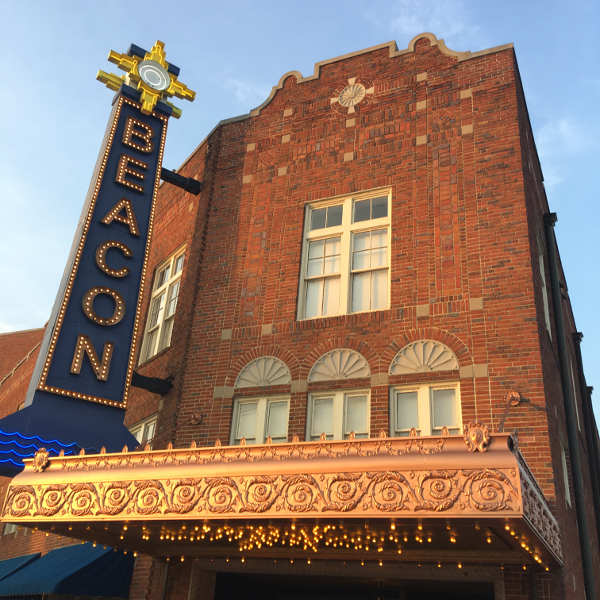 Even for country music royalty, the road goes on forever.
We saw Tanya Tucker play in Hopewell, Virginia, about a 30-minute drive out of Richmond. What was in Hopewell? Not a lot, it looked from the town as we drove in as the sun was going down. It's one of those many small towns in the U.S. that were vibrant a century ago, but whose picturesque storefront shops look sadly empty these days, their main streets quiet of the activity they so richly deserve.
For the first Bad Girl of country music, this was a pretty out-of-the way location to play. But there aren't a lot of stops in big cities for Tanya Tucker in 2017, and Hopewell is more off-the-books than most. The show wasn't even listed on Tucker's own schedule of tour dates, nor the usual ticket booking sites. Tanya has just cancelled a few shows earlier in the month due to Bronchitis, but the venue – The Beacon – held firm> in the weeks leading up to the event that there would be a T. Tucker show.
You couldn't tell from standing outside. The exterior of the venue itself—a 1928 silent movie and vaudeville theater had been rehabilitated in 2014, was breathtaking. But most of the attendees were already inside already. We had arrived after the opening act had started, deliberately so. There was surprising even very little milling out in the hallways—it was as if we were in church, rather than a live music facility.
After grabbing a bag of $2 popcorn, we chose to sit out in the hallway just outside out our balcony seats, along asset of comfortable couches. There was indeed "no bad seat in the house," as the promotional materials promised. A woman carrying a small boy came outside briefly, bouncing him off his hip. It turned out to be the mother of the opening act, country singer/guitarist Faron Hamblin, who grew up in the area, and played a lot of around in the "northern neck" of Virginia, she said.
"He can hold the boy when he's finished playing," she said.
The surprising thing, for me, about Tanya Tucker is that she is only 58. She could, like her seniors Loretta Lynn or Tammy Wynette, live comfortable from her legend and immense groundbreaking contributions to moving country music ahead. But she is also young enough to stage a comeback, stand as equals to those trailblazers who followed in her path, Lucinda Williams (64) or even Emmylou Harris (70). That Tucker is actually younger than Lucinda Williams by 6 years comes to a definite skewing of Tucker's young start. Real young: When she first her first big hit, "Delta Dawn," when she was 13, in 1972. She easily recounted her times of hit making in the early to mid-1970s. She was of an earlier era, back when there was The Man to rebel against.
Tanya should tell her record company (whoever it is these days), that, yes, her fans, and probably many others, would like to hear that "Tanya Does Hag" Merle Haggard tribute album, which she joked during the show.