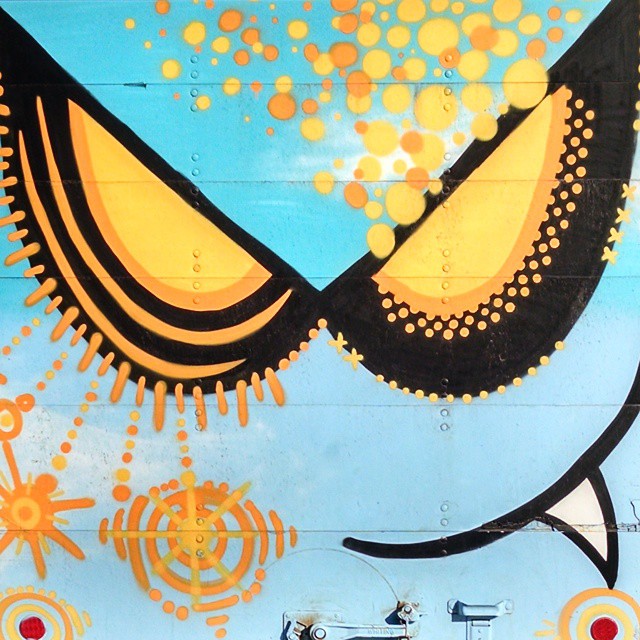 Description:

When I first heard of the passing of New York City street/graffiti artist Jeffrey Gamblero, AKA Korn, I was bummed I didn't have any shots on hand to share. After all, I've seen his wicked creations all over the city, and followed his progress on Instagram, but somehow neglected to post a few good photographs from my about-the-town ramblings.

Then today, I was walking, pretty much at random, down a side street in deep industrial Bushwick, and, lo, this delivery truck decked out by Korn just rolled up and stopped momentarily right in front of me.

As with the best street artists, Korn had a signature style. His was an character profile forged from the slimmest number of lines, with the eyes evolving over time to resemble the downward curves of a busty bra well filled in, and a lone tooth often sticking out in a maniacal way.

It varied from location to location in a delightful range of artful ways, yet was immediately recognizable no matter how rough the surface it stretched across. In the hood, it was iconic.

Whatever you may think of my serendipity of seeing this truck when I did, it neatly summarizes how pervasive Gamblero's work is on the streets. His creations will be watching us for a long time, from the trucks, the walls and elsewhere. He has permanently woven his funky, smart style into the ever-evolving fabric of NYC street art, and beyond.

#RIPKorn.

---
Location: Bushwick, Brooklyn, NYC

Keywords: Street Art, Korn, Jeffrey Gamblero, Graffiti Legends, Truck Art, Photograph