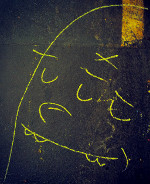 Of the five major bridges crossing into Manhattan over the East River, the Williamsburg Bridge is the one most adorned by graffiti/street artists. It connects two artistic-minded NYC communities, the Lower East Side in Manhattan and Williamsburg on the Brooklyn side.
Unlike the over-crowded Brooklyn Bridge, the Willie B offers wide passageways, recently installed, for both the peds and the wheeled. The spongy black pavement provides an ample palette for the quick-handed. For whatever reason, the city's public works department rarely cleans the graffiti from the bridge.
So walking the Willie B can be a visual hunt for quick art and/or dispatches from some other dimension. Some of the messages that tattoo the century-old infrastructure are funny. Some are crude. Some are thoughtful. Some are randomly odd. Some involve words, and others are just images, sometimes barely so. All get overwritten, in time, by other street art, of equal or unequal value.
Check out the slideshow: