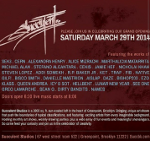 What better way of demonstrating the depthly volume of your new gallery space than by having large, sometimes menacing, balloon creatures loom over everything? The rain outside was torrential, and mighty cold, but worth sloshing through last Friday eve for the debut of Succulent, a Greenpoint gallery, run by street artists Cern and Sek3, that had plenty to gaze enjoyably upon.

Many of Brooklyn's finest street artists were Da House, both literally and figuratively. "It's all about architecture," one told us. "The great street artists are either architects, or should have gone to architecture school."

The ever-swelling crowd drank through all the alcohol, but still managed to loosen up agreeably by eve's end. Anyone, it was rumored, could don the balloon monster exoskeleton and go about terrorizing the patrons.

Because its the year 2014 and we can take pictures with our telephones, here is some of our fave art from the show. Swipe to see!