Soundtrack of My Life, May 17, 2020
Notes: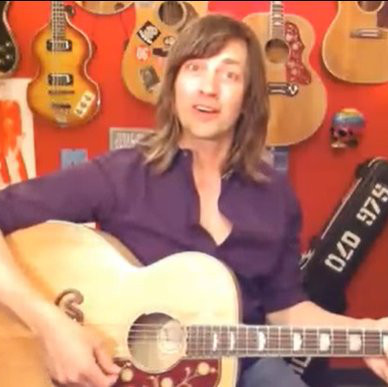 I first heard Mexican indie-pop singer
Carla Morrison
on WFMU. The crispness to her cover of the Velvet Underground's "Pale Blue Eyes" caused me to pull over the car just to find out who she is (Thanks
Shazam
). She's won three Latin Grammy awards, though she seems still largely unknown outside her own massive following (
1.6 million followers on Twitter
). She's been called the Lana Del Ray of Mexico, which is helpful, though, in all fairness, both evolved into their respective styles at roughly the same time. I don't know what she is singing, but
her songs
are filled with sadness and longing, and she sings with a voice that transcends language.
Other things I figured out this week: That Josh Homme can dance, that Hayes Carll really likes Little Rock and that Rhett Miller misses his band (The Old 97s). Also, Rest in Peace, Phil May. His band, the Pretty Things were competitors to the Rolling Stones in their early days. They were raunchier tho. They were always a bit of a mess, but they made one of the best psychedelic albums ever recorded, the sadly-overlooked "S.F. Sorrow."


Carla Morrison: The Lana Del Ray of Mexico

RIP Phil May, the Pretty Things

Josh Homme Dancing (Iggy Pop, live 2016)


.

Remember to be Grateful: Hayes Carll live







Rhett Miller Clearly Misses His Band (The Old 97s)

Instant Nostalgia

Around the Dial

Paperback Writer

Top Artists
| # | Artist | Tracks Played |
| --- | --- | --- |
| #1 | Buffy Sainte-Marie | 76 |
| #2 | Rita Lee | 66 |
| #3 | Carla Morrison | 55 |
| #4 | Buck Owens | 28 |
| #5 | 2814 | 22 |
| #6 | Steve Roach | 21 |
| #7 | Sun Ra | 21 |
| #8 | Willie Nelson | 18 |
| #9 | The Doors | 17 |
| #10 | Brian Eno | 14 |

Top Albums
| # | Name | Artist |
| --- | --- | --- |
| #1 | Changing Woman | Buffy Sainte-Marie |
| #2 | Fruto Proibido | Rita Lee |
| #3 | Djenme Llorar | Carla Morrison |
| #4 | Amor Supremo | Carla Morrison |
| #5 | Birth of a New Day | 2814 |
| #6 | Rain Temple | 2814 |
| #7 | Build Up | Rita Lee |
| #8 | She Used To Wanna Be A Ballerina | Buffy Sainte-Marie |
| #9 | Legacy: The Absolute Best | The Doors |
| #10 | Equinoxe | Jean Michel Jarre |

Top Tracks
| # | Song | Artist | Times Played |
| --- | --- | --- | --- |
| #1 | Love's Got to Breathe and Fly | Buffy Sainte-Marie | 10 |
| #2 | Hasta la Piel | Carla Morrison | 9 |
| #3 | Pale Blue Eyes | Carla Morrison | 9 |
| #4 | Eagle Man/Changing Woman | Buffy Sainte-Marie | 8 |
| #5 | Nobody Will Ever Know It's Real But You | Buffy Sainte-Marie | 6 |

Previous Weeks